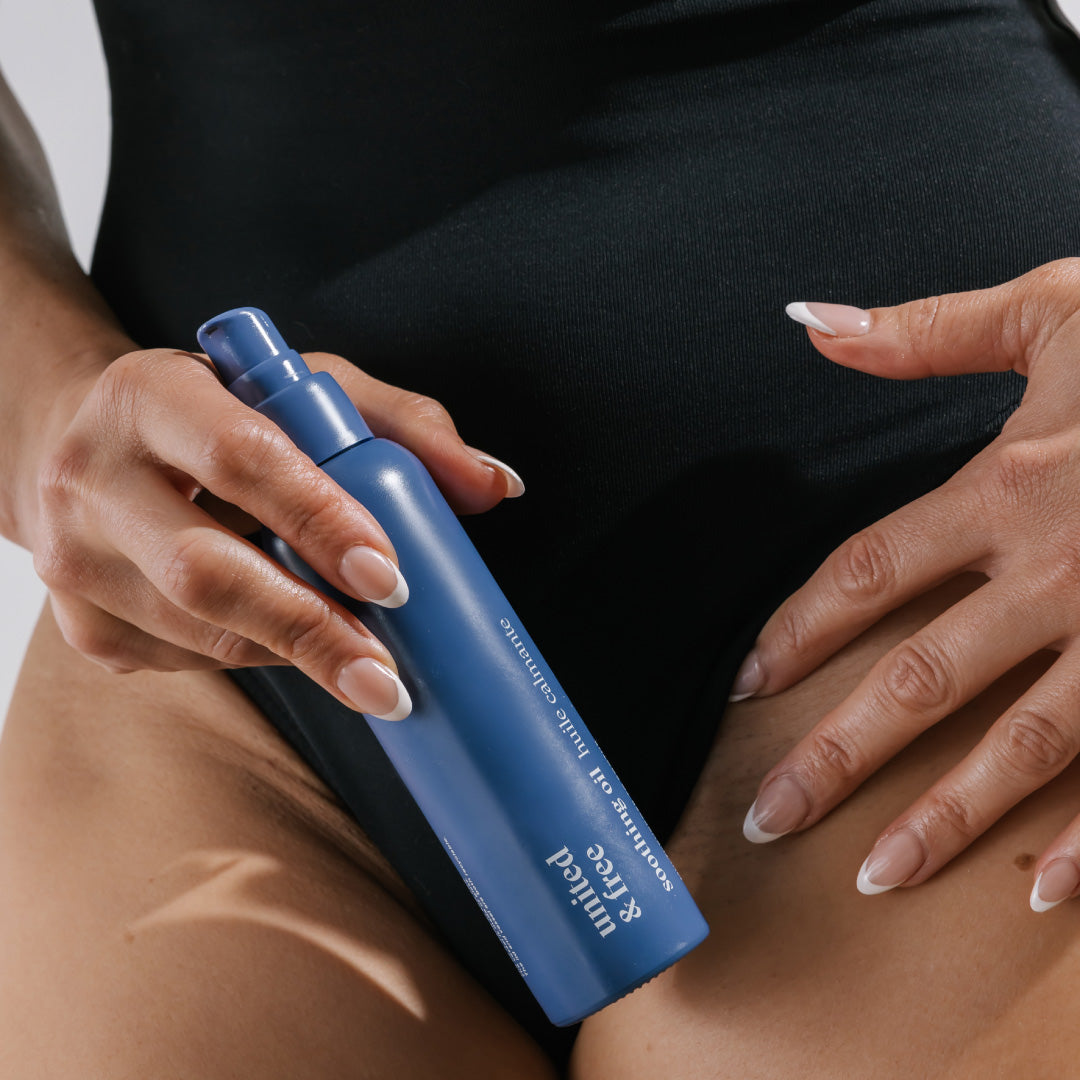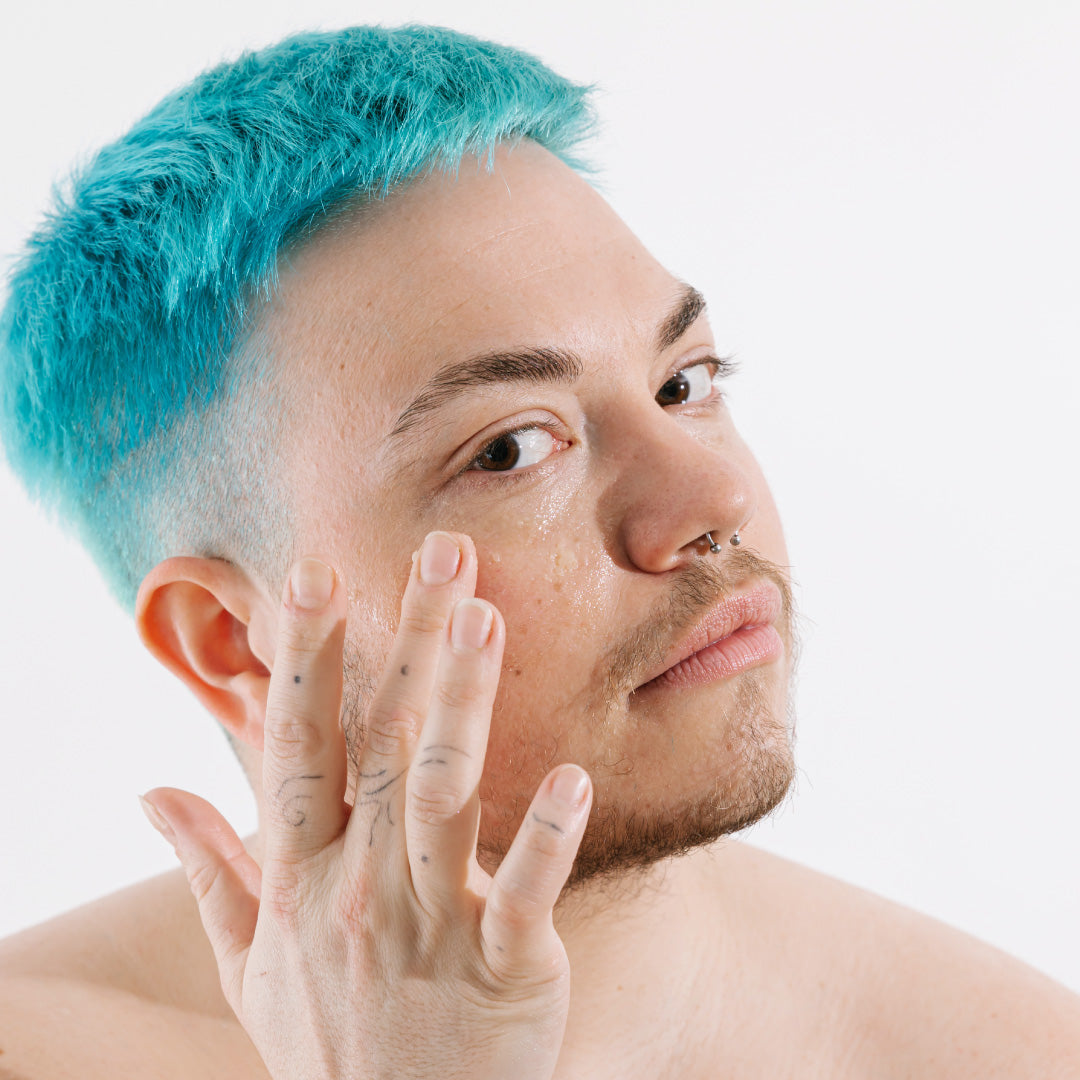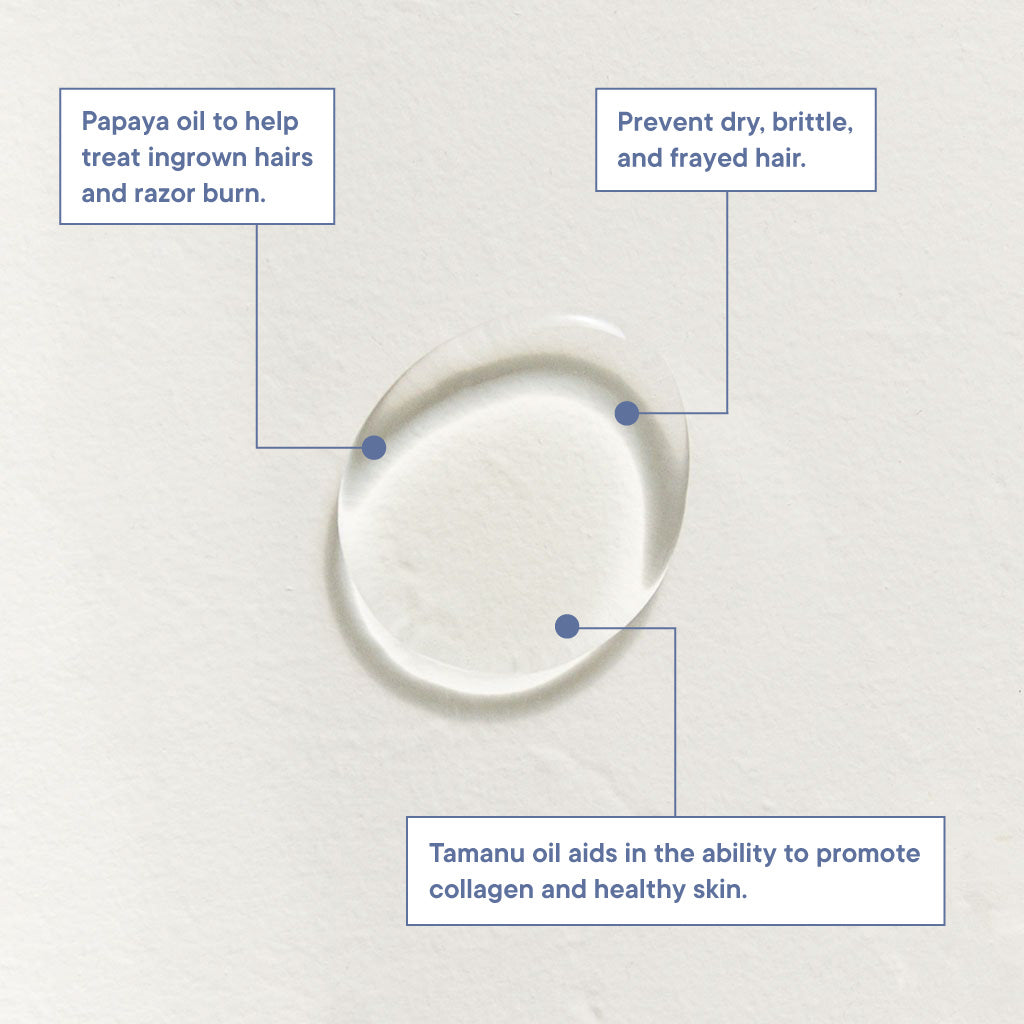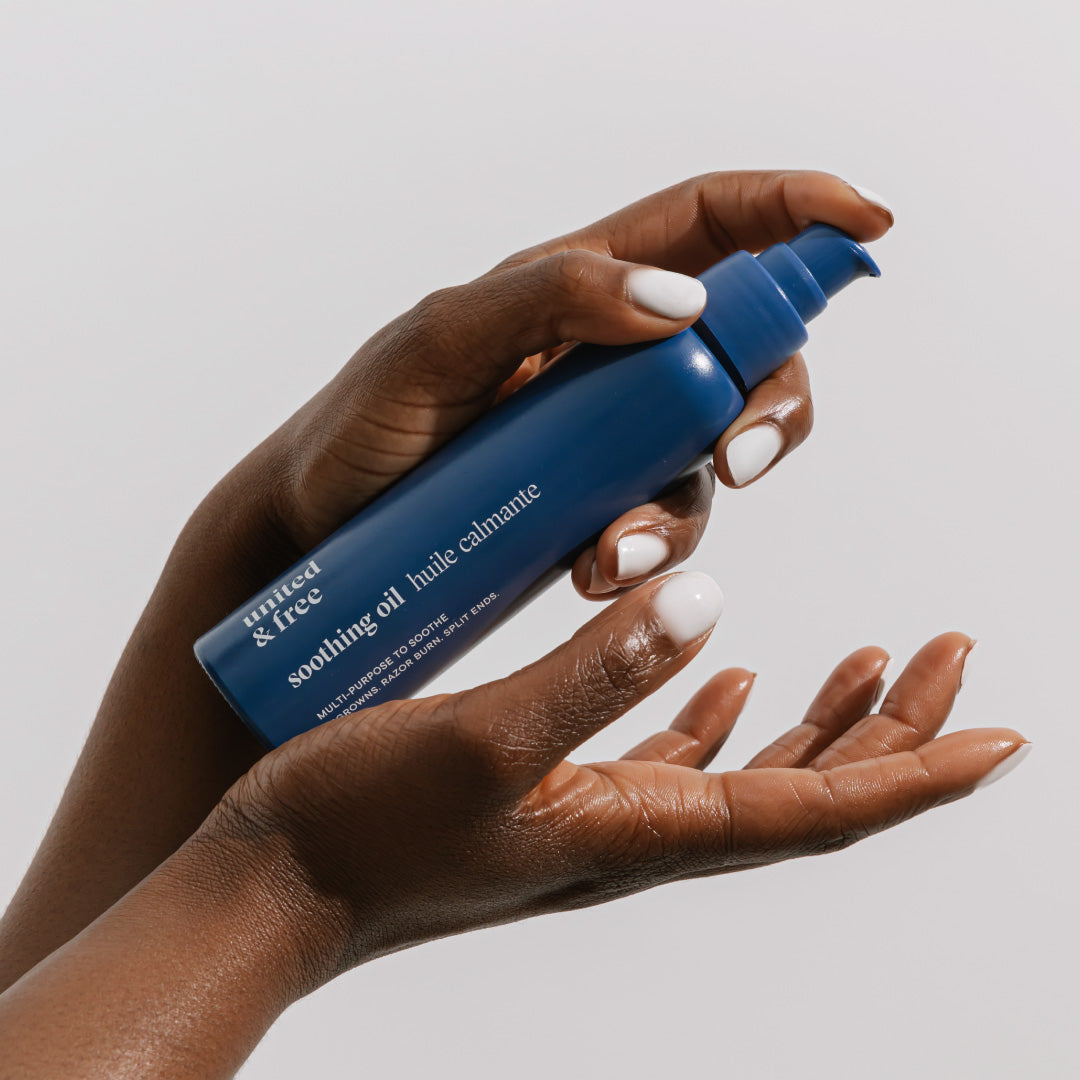 Soothing Oil
"It's lightweight and I had much less irritation after shaving!" - Renata L. / customer.
Designed to ease the irritation around ingrown hairs and razor burn with a secondary usage of helping to prevent split ends in hair.

Benefits
Help ease irritation after shaving, waxing, sugaring or lasering from razor burn and ingrown hairs.
Prevent split ends in hairs by massaging into tips of strands.
Moisturize and soothe skin — can be used as a daily facial oil.
Natural | Vegan | Fragrance-free
---
For all skin types. Most beneficial for easily irritated, sensitive or combination skin
✨ Applying the oil to areas after hair remove will help to reduce the irritation and issues stemming from removal such as redness, razor burn, and ingrown hairs. This works in a few ways, the papaya oil helps to
exfoliate the area, the triglycerides help to coat the skin and keep it
moisturized and the tamanu oil helps to further reduce irritation and
facilitate production of healthy skin.

✨Applying to your face allows for the process of exfoliation, helping to remove older skin cells, to be combined with the benefit of squalene, to aid in the production of newer healthy skin. This leaves your face with a fresh glowing effect.

✨Applying to split ends, the oil containing triglycerides, safflower oils and vitamin e allows the hair shaft to be coated, sealed, and protected, helping to decrease the chance of the shaft splitting further and allowing the user to trim the split end without worrying about a split shaft.
✨ To treat ingrown hairs and razor burns: massage oil into clean skin after shaving, waxing, sugaring and/or laser treatments. For best results use daily.
✨To treat split ends: dispense a small amount on fingertips and massage into split ends. Use sparingly, avoiding roots.
✨To soothe skin: Apply oil to dry or damp skin to help moisturize and repair any area of the body. Gentle enough to be used on the face.
Vitis Vinifera (Grape) Seed Oil, Carthamus Tinctorius (Safflower) Seed Oil, Caprylic/Capric Triglyceride, Squalane, Calophyllum Seed Oil, Carica Papaya (Papaya) Seed Oil, Tocopherol, Melaleuca Alternifolia (Tea Tree) Oil, Caprylic Triglyceride, Chamomilla Recutita Flower Extract, Rosmarinus Officinalis (Rosemary) Extract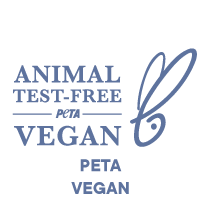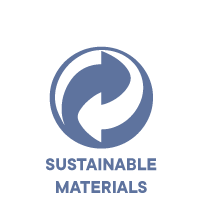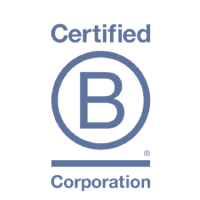 Listening to our customers we found:
90%
Say they were actively struggling with ingrown hairs.
43%
Say they were actively struggling with dark spots and hyperpigmentation.
72%
Say they were actively struggling with razor burn.
*Done with an internal survey emailed out to 30 customers.
Perfect for treating ingrown hairs and razor burn
See real results. Love it in 30 days or your money back.
"No redness, bumps or ingrown hairs!!! It actually noticeably reduced my bumps after shaving."
"I've been using this daily and I've been seeing the most insane results"
"After a bikini wax I applied for a few days to prevent ingrown hair. I also use it on my legs daily and they have never looked better."
"There is no way I am getting into a bikini with razor burn and ingrown hairs"
Soothing Oil helps to reduce irritation from hair removal. Lessening the chances for razor burn and ingrown hairs.
Formulated with:
Tamanu Oil
Papaya Seed Oil
Rosemary Extract
Natural ingredients, remarkable results
Papaya Seed Extract
Anti-inflammatory & exfoliation
Papaya oil contains enzymes chymopapain and papain that bring down inflammation, and removes the keratin buildup that causes bumps on the skin.
Tamanu Oil
Collagen + GAG production
Restores the appearance of healthy skin by facilitating the growth of new skin that looks smoother and feels softer.
Caprylic/Capric Triglyceride
Nourish + protection
Coats hair and skin with a protective layer to prevent moisture loss, and increases the deliverability of vitamins and active agents in the oil.
This product is rated 4.9 of 5.0 stars.
It has received 25 reviews.
Silky smooth skin
This is my second bottle. My legs are so soft after waxing and stay that way between times I go. Love this product!
Hi Stacy,
Thank you for the review! We appreciate you sharing your experience with us.
We would love to hear more from you, we've reached out via email.
Thanks,
B
Good product, bad smell
I don't remember seeing other review before i bought this about the smell. It's not terrible and it doesn't linger, but it definitely smells like chicken flavored ramen.
Hi Baliey,
We are happy to hear your experience with our soothing oil was satisfactory! The smell from our oil comes from the in it Tamanu Oil which can have a spice like scent. This smell doesn't last long and tends to fade quickly. Thank you for mentioning this as we will update our description to mention the natural smell of the oil.
Thank you,
B
Great oil
Love the smell and feel of this oil. It doesn't work miracles on ingrowns but it does help to soothe the skin after shaving. I love it!
Great Product!
My skin had a noticeably smooth texture after just a few uses. It's lightweight and I had much less irritation after shaving!